Will temperature effect my Ion Selective Electrode (ISE) measurements?
The answer is yes, temperature is an important factor when making any type of electrochemistry measurement.
A rise in temperature of a solution will increase the kinetic energy and accelerate the speed of which the ions move around. This will higher the chance the ion you are measuring will hit the sensing tip of the electrode, and therefore increase the mili Vault read out on your meter. It is vital therefore that the temperature of your sample and standards are the same.
​The TRUEscience app will show and record the temperature of the calibration standards and samples automatically. This is good practice, although the best solution is make sure your standards and samples are same temperature, it is possible to make a manual correction estimate after measurement via the Nernst equation. Take a look at our video of ISE calibration on the TRUEscience app.
Picture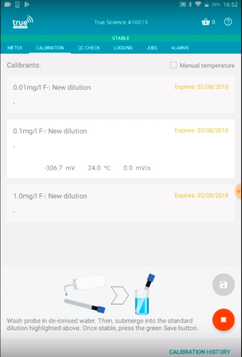 Calibration of a fluoride ISE in the TRUEscience app – stores temperature of each calibration standard and sample
​For more information please get in touch with our technical team via or give us a ring +44 (0)1954 233 144